SOLAR BATTERY SYSTEMS ADELAIDE
Efficient Solar Battery Systems
Do you need quality and durable solar battery storage systems? Adelaide's renowned Yorke Solar offers holistic solutions for home and business owners who want to maximise the use of renewable energy and keep their electricity bills low. Installing our solar battery systems is a great investment that is bound to pay off. We have battery systems for solar panels that have more capacity and can last for longer. Call us to get a free quote and find out how we can help you save with the best solar battery storage Adelaide has to offer!
SOLAR BATTERY STORAGE SYSTEMS ADELAIDE
The Best Battery Storage for Solar Power
Are you looking for a cost-effective solar system? Adelaide prices are soaring, but you can save thousands if you purchase quality solar panels with fantastic storage capacity. If you have a solar system with battery storage that can cover 100 % of your energy usage, your electricity bill will be zero, and if you produce excess energy, you might be able to get paid for each kilowatt. Yorke Solar has superior solar battery storage systems that are second to none. We have both AC and DC-coupled battery systems suitable for off-grid and grid-connected solar panels. Call us today, and we will tell you all about our battery storage systems. Solar power is cleaner, cheaper and more sustainable!
SOLAR BATTERY SYSTEMS SOUTH AUSTRALIA
Store Energy for Rainy Days
Do you want to make the most of the sun's energy with quality solar systems? Adelaide prices of panels, batteries and installation are quite high, but Yorke Solar can help you save, store and get your money back in no time. We supply the most advanced solar battery systems with extended durability and additional storage to ensure you get more clean energy and a secure power supply during rainy days or emergencies that cause outages. Call us to find out why we have the best solar battery systems Adelaide-wide and beyond.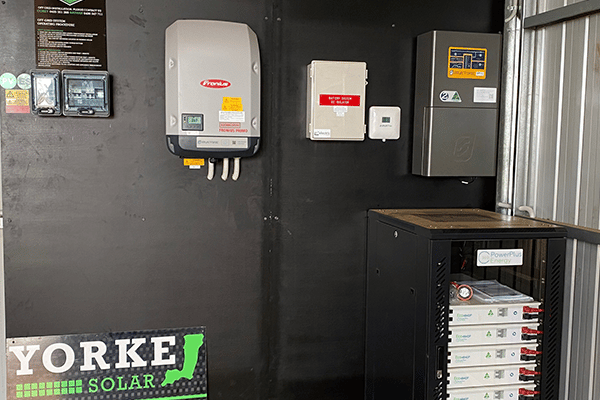 SOLAR BATTERY INSTALLSOUTH AUSTRALIA
Affordable and Reliable Installation Services
When it comes to installing solar panels, Adelaide prices can get hefty, but Yorke Solar offers superior professional service for less. We have qualified technicians who will make sure that your solar battery storage systems are properly set up to give you more control over energy use. Our goal is to give you a comprehensive solution from superior battery systems for solar panels to impeccable installation and maintenance work. Contact us today, and we will outline the best packages for your household or commercial property and give you a free quote.