The Best Battery Solar Solutions for You
Do you need quality and durable battery solar systems? Yorke Solar offers the best solutions for private households and businesses across South Australia. Solar batteries with substantial storage capacities is absolutely essential if you want to make the most of solar energy and minimise electricity bills. We provide the most advanced solar battery systems Adelaide-wide and beyond. Our dedicated professionals can help you choose the optimal solar system and battery that stores more sun power and lasts for longer. Call us today to enquire about our solar and battery package. Adelaide home and business owners trust us because we provide both quality products and superior service.
SOUTH AUSTRALIA SOLAR BATTERIES
Top-Quality Solar Batteries
To gain independence from the public grid and use more renewable energy, you need a reliable system with a quality solar battery. Adelaide-based team at Yorke Solar is here to help you make an investment that will pay off. Our professionals will assist you in selecting the most suitable solar and battery package for your property, be it a private home or a commercial facility. Knowing that switching to clean energy can be costly, we offer the best solar battery price. Adelaide locals typically choose the most powerful solar battery systems Australia-wide to be able to store more electricity and use it when the sun is not shining. Contact us today and learn more about the best South Australia solar battery systems.
Professional Installation of Solar Batteries
Yorke Solar is the most reliable service for the installation of solar systems across SA. Solar battery is particularly important for private households and business because it allows you to capture renewable energy, send it to the grid and use it overnight, on rainy days and during power outages. We provide the most efficient and most durable solar batteries Adelaide-wide, and our licenced and qualified electricians offer the most reliable installation service throughout South Australia. Solar Batteries need to be properly installed to be able to supply your property with clean power for years. Call us, and we will send one of our experienced professionals your way.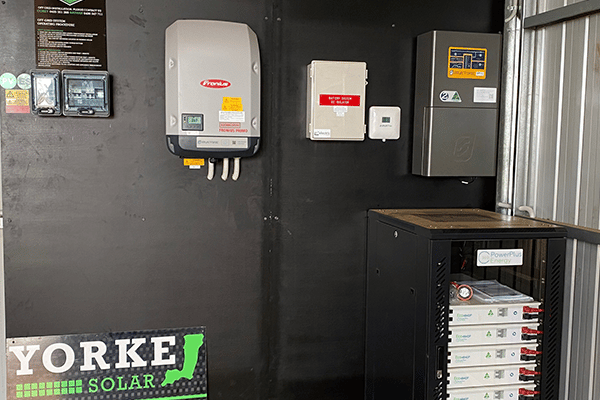 SOUTH AUSTRALIA SOLAR BATTERY
Maximise Your Storage Capacities
Yorke Solar specialises in supplying and installing superior solar systems throughout SA. Solar batteries we stock have enhanced storage capacities to ensure you save and use more of the sun's energy and save more money. Considering the possible future electricity price rises and the consequences of carbon emissions, installing durable battery solar systems puts you in a win-win situation. Call us today to find out more about our best-selling solar battery systems Adelaide locals are currently investing in.